Guernsey
39 Commercial Arcade,
St Peter Port, Guernsey
01481 721522
info@tech-zone.gg
Our Guernsey store can be found in the heart of Guernsey in the Arcade – neighbours to H.Samuel & Costa Coffee. This store opened in May 2017 and we are proud to be the only 3rd party repair store in Guernsey.
All repair services available at this location
Some of our services are not available at select locations.
Micro soldering in-house
Not all of our locations have micro soldering facilities in-house. We still offer micro soldering at all of our locations, as we will use our internal mailing system to get the job done for you at one of our locations. All micro soldering jobs at Guernsey will be sent internally to Jersey at no extra charge.
Sunday Appointments & Call-Out Service
This service is only offered at select locations and is subject to availability. We can provide a repair on a Sunday by appointment only for an extra charge. We also provide a home/office visit for on-site surveys & repairs.  We hope to have this service in the future for Guernsey customers.
Store Front
We offer services around the world but some locations operate within an office environment and are not accessible to the public. In locations without a storefront, you start the repair process online and we will send a courier to your door to collect your device where a pick-up/drop off service is arranged. 
Tech-Zone Online
Tech-Zone Online is our online store for anyone in the world. You can purchase refurbished smartphones/iPhone/Samsung and NEW laptops/PCs and much more! Purchase online now at Tech-Zone Online and get your purchases posted right to your door. You can even select to collect your purchases at one of our stores subject to availability.
Visit: Tech-Zone Store.
See a full list of services on offer at this location….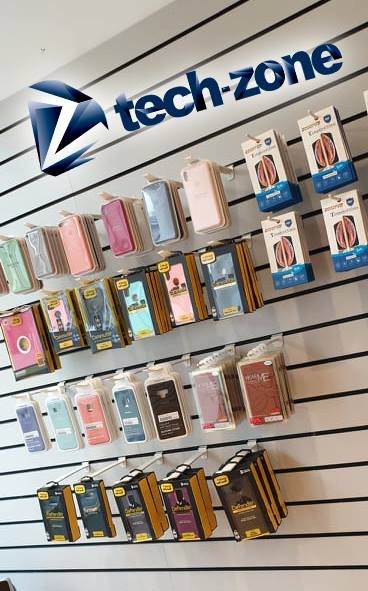 Sign up for special promotions and latest news
We will process the personal data you have supplied in accordance with our privacy policy.